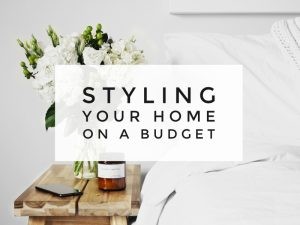 Styling your home to increase its potential sale value doesn't have to cost a lot of money. Start
with the following ideas and you will be well on your way to achieving a great result.
Declutter – The first option on this list is also the cheapest and most important. You can
dramatically improve the look and feel of your home by removing any unnecessary furniture,
nick-nacks and general clutter. Donate surplus items and for anything leftover, hire a storage
unit if you can. Leave kitchen benches and desks clear except for one or two items. Remember:
clutter eats equity!
Depersonalise – Sticking with the removal theme, it's smart to remove personal items where
you can so that your future buyer can imagine their family in your home.
Turn on the lights – Make your rooms as bright as possible by using high-wattage bulbs
throughout your home. Make sure to use warm white bulbs which give off an inviting golden
tone. If they take a while to warm up, make sure you turn them on in advance of any buyer
viewings.
Lamps – Create inviting corners throughout your home with a few well-placed lamps, the added
warm light will make your home even more welcoming.
White linen on every bed – For the same reason you should use light, neutral paint colours so
you don't risk putting some buyers off, you should use white linen throughout your home for a
clean and tidy look. Add different coloured throws to each bed to provide a splash of colour.
Pillows – Every bed looks more inviting when it is stacked with lots of pillows. Buy fresh inners
that haven't had the life squashed out of them and finish it off with brand new pillowcases.
Cushions – Dress up any ageing couch or chair with cushions. Go for soft neutral colours and
choose soft textures to add a feeling of warmth to any room.
Mirrors – The key to making any room feel larger and lighter is to add mirrors. Use them to
replace spots that were once taken up by family photos before you depersonalised.
Scented Diffusers – Go with light, fresh aromas that don't overpower potential buyers.
Lots of plants – There is nothing like greenery to make your home feel more inviting. Make sure
you add plants to bathrooms as well to add a pop of colour.
Towels – Bold, plush looking towels are a great way to add luxury to an otherwise neutral
bathroom.
Note: Style all potential bedrooms to have a bed in them if possible. If you don't have a spare
one lying around, you can place an air-mattress on top of crates and dress it up like a normal
bed to achieve the same effect.
When in doubt, always remember less is more. Except if it leaves you with an empty room!
Bonus tip: If your carpet is looking a bit tired, consider getting it professionally cleaned. A deep
clean can give your carpet new life before you go on the market. This can cost a few hundred
dollars but it's usually worth every penny.

Ready to take the next step?
Selling a property can feel daunting in the beginning. The key is having a plan, along with a
trusted adviser you can call on to answer all those little questions that come up along the way.
The best place to start is with a free consultation. Call us today to book yours!