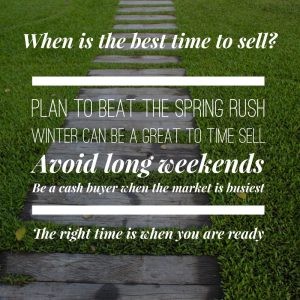 Moving house is one of those big life changes which requires many
smaller decisions to be made along the way. In this article, we tackle the
question of timing, with tips on how to choose a date that will increase
your chances of obtaining a premium price.
Before we get started though, there is another question you should be asking
first:
When does it suit your family to make this move?
It's ok to put your own needs to the fore in this circumstance. Plan around
holidays, school start dates or trips away to provide as much continuity as
possible for your loved ones.
If your options are still many and varied, then consider the following…
What do most owners do?
Many homeowners choose to go on the market in Spring. This is often when they
feel their home will look it's best. Flowers are blooming. Grass is greener. The
weather is getting warmer. The birds are singing.
It's correct that houses look great in Spring but real estate markets run on supply
and demand, so putting your home on the market at exactly the same time as
everyone else can result in a situation where you have more competition to
secure the attention of the buyers in the market at that time. With new houses
coming up for sale every day, buyers can fall in (and out) of love with homes very
quickly.
To maximise your chances of success, consider these tips:
Beat the rush
If you are keen to put your home on the market when everyone else is, then get
in early. Time your run to hit the market at the very start of the rush. That way,
you'll get the benefits of the nicer weather, without the added competition.
Winter can be an ideal time to sell
There is something truly heartwarming about walking into a nice cosy home on a
winter's day. Owners often rule out winter as an option but in our experience,
this means the owners that do take the plunge in the cooler months secure great
prices because buyers have fewer houses to choose from. That means more
eyeballs (and potentially more offers) on your home.
If you have a warm, dry home with good heating, selling in winter is definitely an
option worth considering.
Avoid long weekends (and potentially school holidays)
Timing your run to secure a great result is often about choosing the right
weekend, rather than the right season. Try to avoid having your first weekend
open home on a long weekend if locals travel out of town in your area.
If your home could potentially suit a young family, then you may want to
consider whether it's smart to list your home for sale during school holidays.
Parents may have too much on their plate looking after kids to make big real
estate decisions.
Sell with your future buyer-selves in mind
If you know when most owners choose to sell in your area (Spring), then a smart
play is to sell your home a month or two before that, so you can be a cashed-up
buyer when all the new properties hit the market. That way you greatly increase
your chances of finding a home you love, in the short amount of time available.
The right time is when you are ready
No matter what, keep the initial message in mind as you make your timing
decision: the right time to sell is when it suits you best. If you have just spent
months decluttering and tidying the garden, then the best time to go on the
market is probably right now!
What's next?
You may have a number of other questions about the selling process. How much
does it cost? What renovations add the most value? Should you buy first? Or sell first?
Call us today to book a no-obligation chat about your upcoming move. We can
provide answers to the questions above and any others you might have. We love
putting our vast experience to work helping owners in our community make
smart real estate decisions